Wine & Wellness Consultation, Workshops & Events
From 1-on-1 consultation to speaking at consumer events or educating full size staff teams, let's get savvy on how wine impacts our health.
1-on-1 Consulting
For Wine Professionals, Restaurant and Retail Management, Hospitality Professionals, Fitness Professionals & Wine Enthusiasts
Includes: Curation of Organic, Biodynamic, and Natural Wine Menus, Customized Wine Coaching or Educational Material Development
Speaking & Workshops
For Wine Tastings, Consumer Education Events, Group Wine Staff Trainings
Includes: Customized Workshops or Training
VIP Experiences
For Wine Professionals, Chefs, Fitness Professionals, Organic & Biodynamic Wine Enthusiast
Includes: Immersive Exploration of Organic, Biodynamic, and Natural Wines combined with Healthy Foods and Professional Cooking Lessons and Fitness (i.e. Yoga, Hiking, Cycling, etc.)

Virtual as well as beautiful European and the Americas destinations
Meet your wine & wellness coach,
Kathy Clancy
As a health-conscious consumer, former wine server, and certified WSET professional, I know what it feels like to struggle with
diet and health related questions about wine.

Frustrated to find science-backed and practical answers, I have invested thousands of hours over the last five years studying first-hand organic and biodynamic wine practices of leading producers from Europe, South America, and the USA. My health and diet information is sourced directly from registered dieticians and credible studies rather than headline and marketing driven sources.
My ultimate goal is to personalize wine experiences so you can confidently select a glass that aligns with the health and lifestyle values of people you serve and yourself.


The lack of clear resources and courses on wellness and wine drove me to create The Natural Wine School. Through our focused, efficient and engaging courses, we have successfully trained over 200 wine servers and professionals who report immediate increases in organic wine sales averaging 15% and higher guest satisfaction.
Whether you're serving wine to a customer, a family member, or a friend,

their health and happiness is essential to an exceptional experience.
Let me help you develop your wine and wellness skills so you can WOW your guests with a personalized, enjoyable wine adventure!
Our Training With Your Words
exceeded expectations | increased wine sales by 20% | thrilled our guests | by far the best tool in restaurant training
Through the years I've sat through 100's of wine tastings, classes and exposés and though some made the top 10, Kathy blew me away... Dust off the old books and learn new trends quickly. The program is by far the best tool used in restaurant training anywhere and I've never found anything like it. It creates a culture and understanding of the natural wine business and its essence. For personal training this is just as extraordinary.
DAVID BINION




Beverage Director, The Ethos Group
Partnering with The Natural Wine School exceeded expectations. Our staff training was some of the most dynamic wine training I've seen in my career. Organized, detail oriented and easy to comprehend for all experience levels. Our staff truly enjoyed learning from Kathy, and we've seen the impact in our sales!
BRENDAN KEARNEY



Director of Operations, The Salerno Group
20
0 members of the staff have been trained by The Natural Wine School and they helped curate our 100% organic wine menu. We enjoy significant wine sales growth and increasing customer engagement after training! Our month-over-month wine sales grew by 20% after training and creating our organic wine menu. Guests are thrilled that servers understand their dietary restrictions and match them with the right wines. And servers make more tips!
AARON BISHEIMER



Beverage Manager, TownHall
Thank you! We'll be in touch shortly.
Get the Wine & Wellness
Survival Guide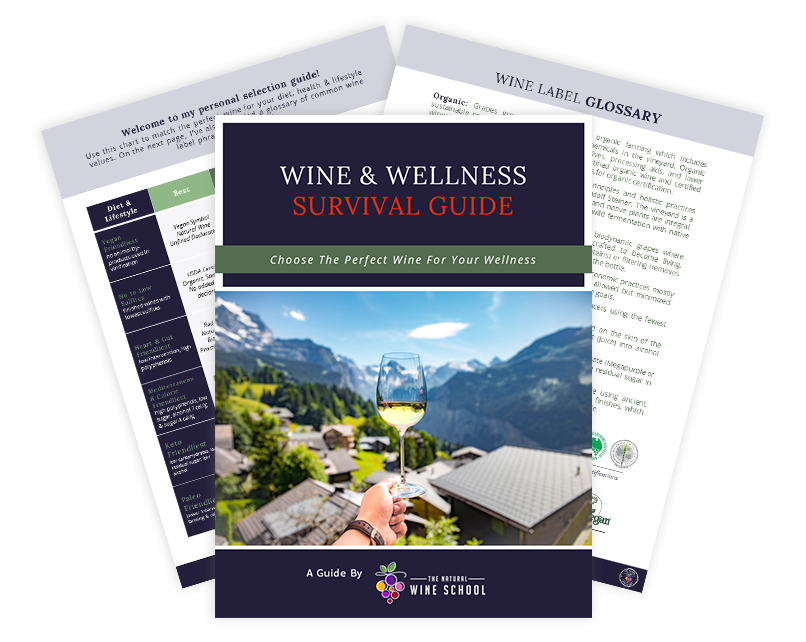 Browse through my personal selection of natural wines depending on your diet, health and lifestyle goals. I've also included a glossary of common wine phrases & symbols for you to decipher those labels! Enter your email below and check your inbox.
Thank you! Please check your inbox.
Created with