E-COURSES & WORKSHOPS FOR ALL LEVELS
Grow Your Wine & Wellness Mind.
Whether you serve wine at home or at a restaurant, we have courses available to personalize the wine experience for your health-conscious guests.
Video Lessons
Modules broken down into bite-size video lessons make it easy to digest.
Materials Provided
All course materials provided to assist in retaining knowledge.
Quizzes & Certificates
Quizzes at the end of every lesson & certificates awarded after course completion.
Courses & Workshops Coming Soon!
Our Training With Your Words
exceeded expectations | increased wine sales by 20% | thrilled our guests | by far the best tool in restaurant training
Through the years I've sat through 100's of wine tastings, classes and exposés and though some made the top 10, Kathy blew me away... Dust off the old books and learn new trends quickly. The program is by far the best tool used in restaurant training anywhere and I've never found anything like it. It creates a culture and understanding of the natural wine business and its essence. For personal training this is just as extraordinary.
DAVID BINION




Beverage Director, The Ethos Group
Partnering with The Natural Wine School exceeded expectations. Our staff training was some of the most dynamic wine training I've seen in my career. Organized, detail oriented and easy to comprehend for all experience levels. Our staff truly enjoyed learning from Kathy, and we've seen the impact in our sales!
BRENDAN KEARNEY



Director of Operations, The Salerno Group
20
0 members of the staff have been trained by The Natural Wine School and they helped curate our 100% organic wine menu. We enjoy significant wine sales growth and increasing customer engagement after training! Our month-over-month wine sales grew by 20% after training and creating our organic wine menu. Guests are thrilled that servers understand their dietary restrictions and match them with the right wines. And servers make more tips!
AARON BISHEIMER



Beverage Manager, TownHall
Get the Wine & Wellness
Survival Guide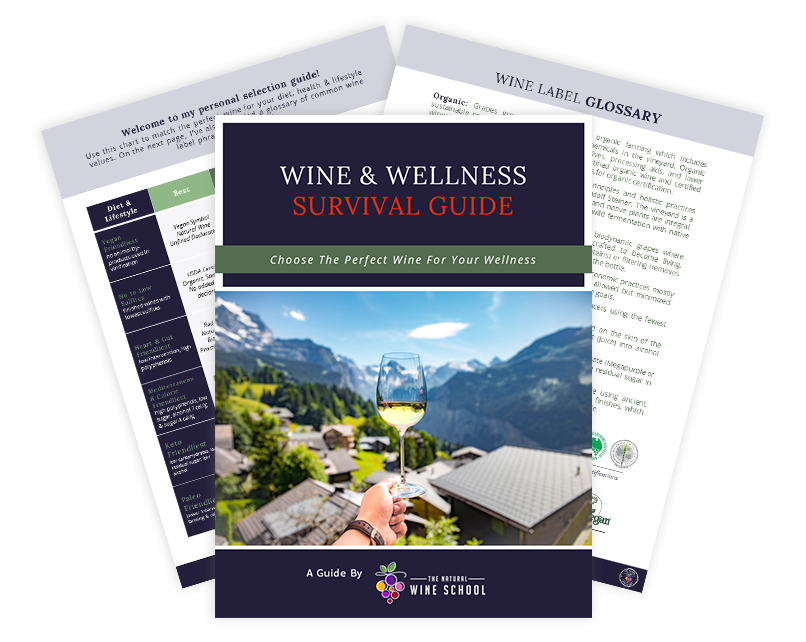 Browse through my personal selection of natural wines depending on your diet, health and lifestyle goals. I've also included a glossary of common wine phrases & symbols for you to decipher those labels! Enter your email below and check your inbox.
Thank you! Please check your inbox.
Created with