Answer health-related questions from customers about wine with confidence.
The market of health-conscious customers is steadily growing, and wine education is falling behind.
Moreover, governments don't require wine labels to list ingredients and nutrition info.
This makes it difficult for wine servers and professionals like you to answer diet & health-related questions from customers such as...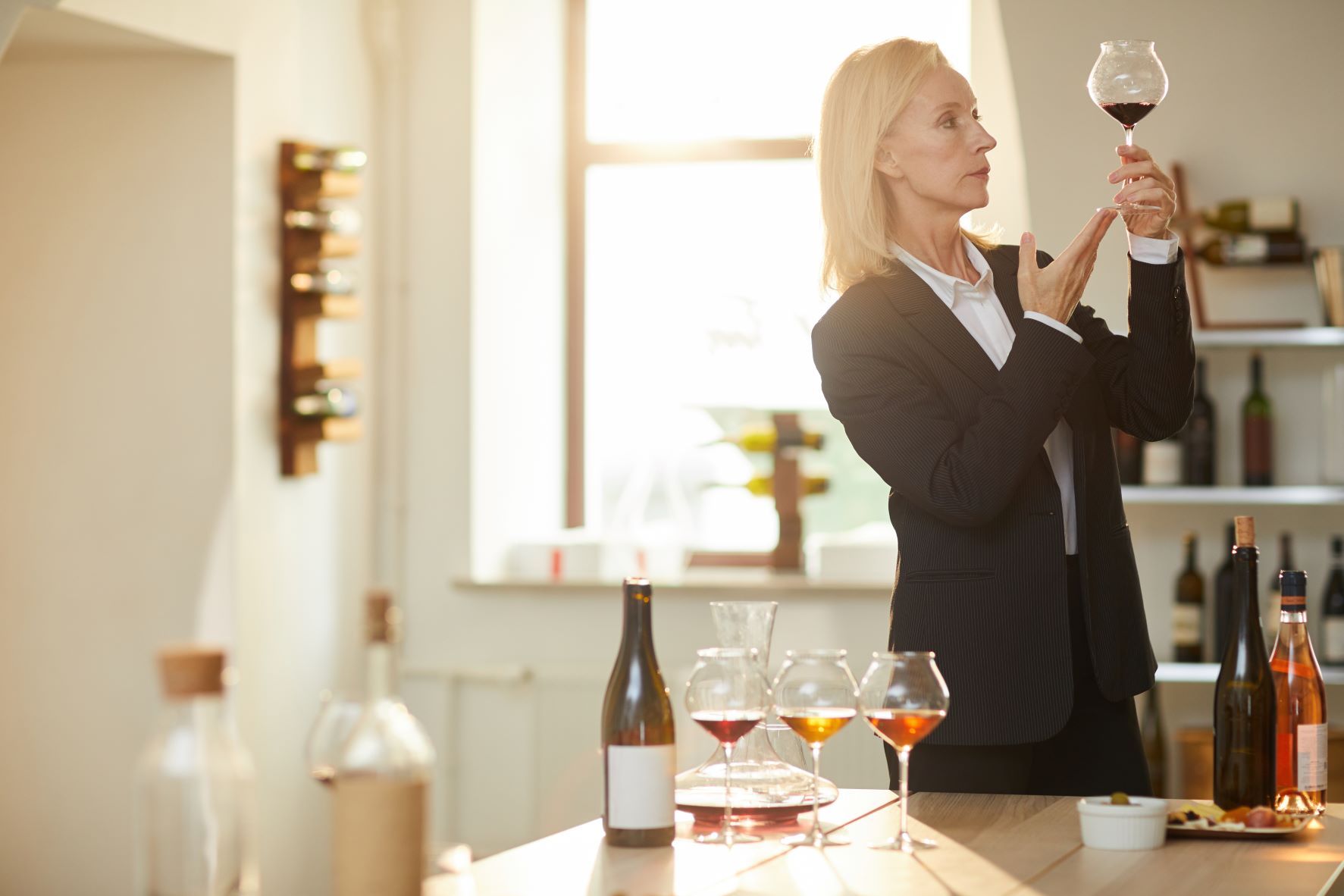 I get headaches when I drink wine. Isn't that from sulfites?

Why does red wine make me feel sick but white wine doesn't?

Do you have any Vegan wines?

Which wine is lowest in calories and best for a healthy diet?

Can you give me a wine with the fewest additives and least amount of processing?

Are "natural" or organic wines better than other wines for my health?
Avoid guessing out of embarrassment when it comes to recommending the perfect wine for your health-conscious guests.
introducing
Wine & Wellness W
orkshops
Interactive applicable training that increases your ability to decipher the health of a wine with more certainty than many wine professionals.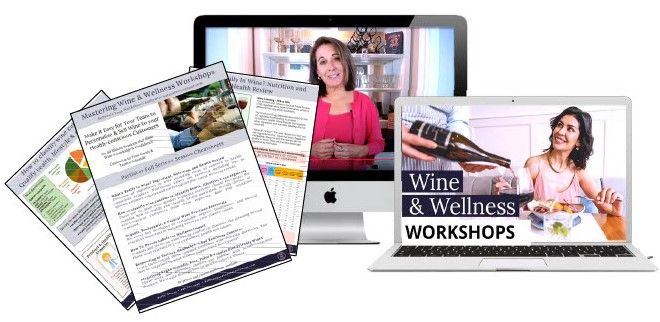 Wine & Wellness Workshops go beyond standard wine training and contains unique insider knowledge from over 600 organic and natural winemakers and growers from France, Italy, Argentina and the USA.
You will gain the skills required to answer specific health or diet-related questions so you can truly personalize the wine experience for your guests.
This will result in…
Healthy & happy repeat customers

Increased tips

Increased status within your professional and social circles

Being seen as a valuable resource and team member among your colleagues

Referred customers
200 members of the staff have been trained by The Natural Wine School and they helped curate our 100% organic wine menu. We enjoy significant wine sales growth and increasing customer engagement after training! Our month-over-month wine sales grew by 20% after training and creating our organic wine menu. Guests are thrilled that servers understand their dietary restrictions and match them with the right wines. And servers make more tips!
AARON BISHEIMER



Beverage Manager, TownHall
What's Included In These Workshops
6 Live workshops plus recordings
WINE & WELLNESS CHEAT SHEETS
MODULE 1:

What's Really In Wine? Ingredient, Nutrition, & Health Review
Overview of ingredients in wine including those of concern to health-conscious drinkers such as residual synthetic chemicals, sulfites, mycotoxins, and GMOs. Nutritional values are reviewed including tips to quickly estimate calories and carbohydrates. Top trending wine-health news and studies are presented for discussion.
MODULE 2:

How to Classify Wine Customers into Health, Lifestyle, & Eco-conscious Segments
There are six main wine drinker segments everyone should know! Four of them include health, lifestyle, and environmentally conscious drinkers. You'll learn how to qualify your customers fast with simple questions!
MODULE 3:

Organic, Biodynamic, & Natural Wine Essentials
From viticulture to vinification, we look at the key attributes of organic, biodynamic, and natural practices important to matching wines to your clients values.
MODULE 4:

How to Decode Wine Labels for Wellness
Symbols and terms on wine can be confusing! Discover the meaning behind those most relevant to your customers' health and values. We dissect and discuss several New World and Old World label examples. Bring your own example to share!
MODULE 5:

Responding to Sulfites, Headaches, & Bad Reactions
Learn facts behind these common customer wine-reaction questions. You may be surprised by what studies support and also don't prove!
MODULE 6:

Identifying Vegan, Keto, Paleo, & Lifestyle Friendly Wines
These diets and lifestyles are popular with health-conscious drinkers. We'll walk through how to quickly decide when a wine meets each.



A complete breakdown of standard wine labels including a deep dive into specific logos and nuanced language on labels. You'll be able to apply this information when answering questions about which wines impact the consumer's health and lifestyle choices.

See examples of new formats, how to properly serve unconventional formats, then how to store them properly.

Hands-on knowledge and details on how to match wines to customers wellness and lifestyles. This culminates the course learning into a highly applicable session. Here you will receive our Ultimate Cheat Sheet for Wine & Wellness handout.

This is where the rubber meets the road.... or where the grapes hit the glass!
Be seen as a valuable wine & wellness resource among your colleagues and customers.
Here's what you get when you sign up to start training today:
Customer personas training and accompanying cheat sheet:

$547

From vine to bottle farming practices training summarized across 100+ vetted websites saving you 30+hrs of research:

$597

Access to monthly Q&As + wine discussion webinars:

$367

Unique insider knowledge relevant to the next generation of wine customers from over 600 natural winemakers and growers from France, Italy, Argentina and the USA:

PRICELESS
Total Value = $1,511
Enroll Today & Get Unlimited Workshop & Q/A Access
for Only $997 $458
$79
Meet your wine & wellness coach,
Kathy Clancy
As a health-conscious consumer, former wine server, & certified WSET professional, I know what it feels like to struggle with
diet & health related questions about wine.

Frustrated to find science-backed and practical answers, I have invested thousands of hours over the last five years studying first-hand organic & biodynamic wine practices of leading producers from Europe, South America, and the USA. My health and diet information is sourced directly from registered dieticians & credible studies rather than headline and marketing driven news.


My ultimate goal is to personalize wine experiences so you can confidently select a glass that aligns with the health and lifestyle values of people you serve & yourself.


The lack of clear resources & courses on wellness & wine drove me to create The Natural Wine School. Through our focused, efficient & engaging courses, we have successfully trained over 200 wine servers and professionals who report immediate increases in organic wine sales averaging 15% & higher guest satisfaction.
Whether you're serving wine to a customer, a family member, or a friend,

their health and happiness is essential to an exceptional experience.
Let me help you develop your wine and wellness skills so you can WOW your guests with a personalized, enjoyable wine adventure!
"Through the years I've sat through 100's of wine tastings, classes and exposés and though some made the top 10, Kathy blew me away..."
DAVID BINION
Beverage Director, The Ethos Group
"Organized, detail oriented and easy to comprehend for all experience levels. Our staff truly enjoyed learning from Kathy, and we've seen the impact in our sales!"
BRENDAN KEARNEY
Director of Operations, The Salerno Group
Take your career and wine expertise to the
next level!
1- Register for the course
Hit the button below to get instant access to the training and start watching the video lectures.
2- Grow your wine mind
Put what you've learned into practice to elevate & personalize your customers' wine experience.
3 - Reap the rewards
Stand out among your colleagues, earn loyalty, compliments, and more tips from your customers!
Get the Wine & Wellness
Survival Guide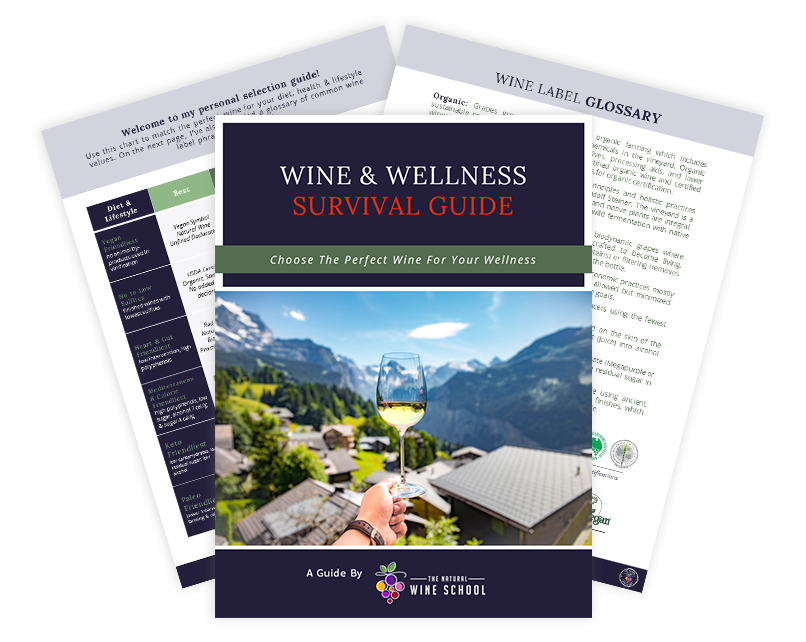 Browse through my personal selection of natural wines depending on your diet, health and lifestyle goals. I've also included a glossary of common wine phrases & symbols for you to decipher those labels! Enter your email below and check your inbox.
Thank you! Please check your inbox.
Created with