Join today
Mastering Wine & Wellness: Workshop Series
Six (6) online sessions that build your wine & wellness acumen! Master how to personalize wine to diets & lifestyles valued by your customers.
Format
Live Interactive Online Course
Frequency
Mondays, Wednesdays 4PM EST

Six 40-Minute Sessions
What you are going to learn
Get Smarter About Wellness
This course fills the essential knowledge gaps that modern wine professionals & their teams have when serving today's health-conscious & values-driven customer.
Throughout this workshop series you will discover:
What's in actually in wine and the latest on health & wine news
Why & how sorting your wine customers into segments helps you chose wines your customers will love!
The ins & outs of organic, biodynamic, & natural wine farming & winemaking practices
The specific clues & "cheats" found on wine labels tied to wellness & health
Ways to respond to sulfites, headaches, & bad reactions questions from guests
The essentials of Vegan, Keto, and Paleo diets & the perfect wines
The top wines to recommend for plant-based, Mediterranean, & other healthy-diets
Kathy Clancy
Founder & Educator at The Natural Wine School
Get the Wine & Wellness
Survival Guide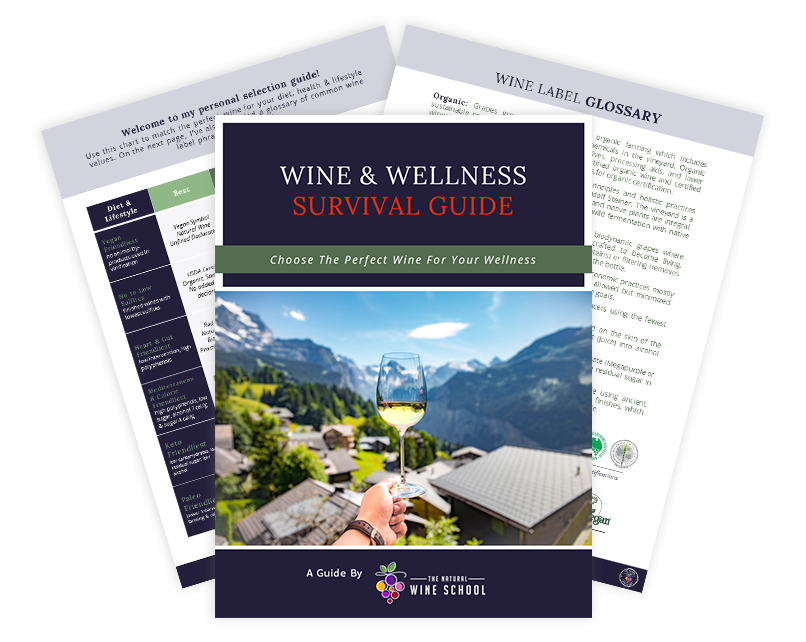 Browse through my personal selection of natural wines depending on your diet, health and lifestyle goals. I've also included a glossary of common wine phrases & symbols for you to decipher those labels! Enter your email below and check your inbox.
Thank you! Please check your inbox.
Created with